2017 Ford Youth World Show
AUGUST 4-12, 2017 | OKLAHOMA CITY
2016 Results
Performance Halter Geldings - Cooper Dobbs and Mytesly, Unanimous World Champions
2 YO Mares - Connor Griggs and An Impulse to be Hot, finalist
2 year old Geldings - Alisun Watson finished third in the Level 2, and was fifth overall with Self Employed Idol.
Trail - Caroline Latture and Eye On The Ball 7th place
Trail - Sidney Dunham and No Trouble Mac finished 3rd in the 13 and under division.
Poles - Maggie Smith and Rompin With Honor were WORLD CHAMPIONS in the Level 2, RESERVE WORLD CHAMPIONS in the 13 and under, and 3rd overall. Maggie was also 6th with War Lena Grand and 10th with Gotta Another Gear. Ashley Moore was 7th with Little Lena Boogie, and Ty Cornelius was 14th with Pacnhowietothebar.
Barrels - Maggie Smith was 10th with Rompin With Honor.
Stakes - Ty and Pacnhowietothebar were WORLD CHAMPIONS, defending their title from last year. Maggie Smith was 7th with War Lena Grand and 9th with Gotta Another Gear. Hannah Hammock was 10th with A Venturous Red Man.
Ranch Riding - Caitlyn Lyerly was 14th with Magnum Moo La.
Cutting - Grant Martin made the finals with TR Reyn Dancer.
Breakaway Roping - Baylee Lester and CJS Got That Swing, 3rd place; Kenzie Castor and Purple Playmate, 4th place
Team Penning - Ty Cornelius, Taylor Asberry, and Kelly Duncan won 10th place and finalist. Ty, Lanie Cornelius, and Kristine May also finished finalists.
Ranch Sorting - Ty Cornelius and Taylor Asberry were 8th and Ty Cornelius and Kelly Duncan were finalists.
Stall decorations - division 1, 3rd place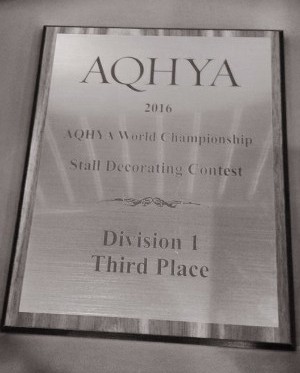 Arkansas Team:
Taylor Asberry, Allison Boswell, Kenzie Castor, Alec Cochran, Lanie Cornelius, Ty Cornelius, Dakota Cox, Dillon Cox, Treva Dillon, Cooper Dobbs, Dylan Dobbs, Kelly Duncan, Sidney Dunham, Margaret Sue Dunn, Heather Fultz, Macy Gillette, Connor Griggs, Hannah Hammock, Spencer Hardin, Anna Harris, Laura Henderson, Dalton Hitchcock, Madison Hitchcock, Isabella Jacuzzi, Caroline Latture, Baylee Lester, Nicole Lewis, Hannah Lovrien, Caitlyn Lyerly, Grant Martin, Ashely Moore, Andie Pratt, Maggie Smith, Grace Thompson, Alisun Watson, and Landen Watson.
36 Youth showing 62 horses in 24 events - Good luck, Team Arkansas!

Thanks to Bad Boy Mowers for sponsoring the Youth World Team shirts!!