YES Conference
The American Quarter Horse Association is proud to announce the exciting tentative schedule of events for the 2018 Bank of America Youth Excellence Seminar June 28-30 in College Station, Texas. The priority registration deadline is May 15.
Officer elections for the 2018-2019 AQHYA Executive Committee and for regional directors will also be taking place throughout the week. See what past attendees say about YES!
Motivational speaker Clint Swindall will give a keynote address Friday, June 29. Clint is president and CEO of Verbalocity Inc., a business dedicated to developing leaders at all levels of organizations. The company's primary focus is to inspire individuals to help build a culture of engagement.
Tobin Redwine, assistant professor in the agriculture leadership, education and communications department at Texas A&M University, will also be addressing YES attendees. Redwine grew up on a farm in Lazbuddie, a rural community in Northwest Texas. After serving as the Texas FFA Organization president in 2003-2004, he earned a bachelor's degree in agricultural leadership and development at Texas A&M University.
YES attendees will make an impact in the local community as they volunteer with Books and a Blanket, an organization founded by two young sisters, with the goal of providing literacy and well-being for young students in need. YES attendees will be asked to donate new or gently used children's books. Additionally, during the service project, attendees will sort books, make fleece blankets and talk about service leadership.
For a preview of Books and a Blanket, watch this video.
In addition to YES activities, the 2018 American Quarter Horse Youth World Cup is also taking place in conjunction with YES and attendees are able to witness an educational, leadership and competition-based event for AQHA youth members from around the world.
Throughout the week, exciting activities and breakout sessions are planned to keep participants engaged. These sessions allow youth to be active and learn leadership skills that will serve them as AQHYA members and future AQHA industry leaders. Attendees will also participate in a career expo highlighting career opportunities in the equine industry and beyond.
If you haven't had a chance, check out the tentative YES schedule.
This event will be the highlight of your year. What better way to spend time with fellow AQHYA members?
Registration for YES is $110 for current AQHYA and AQHA members if registered by May 15. Nonmembers can participate in this leadership opportunity by paying the nonmember registration fee of $125 by May 15. Registrations received after the priority deadline will be charged a $25 late fee and will be subject to availability. Registration fees do include meals.
For more information or to register for YES, visit www.aqha.com/yes.  
Cornelius elected 2017-18 AQHYA President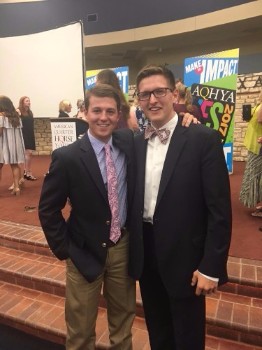 ArQHA would like to congratulate our own Ty Cornelius, who has been the ArQHYA president for two years, on becoming the American Quarter Horse Youth Association President for the 2017-2018 year! We can not wait to see what he accomplishes during his presidency at the national level.

ArQHA is also proud of the youth that represented ArQHA at the YES Conference in Amarillo, this year. All six of these kids will also compete for Team Arkansas at Youth World in Oklahoma City on August 4-12.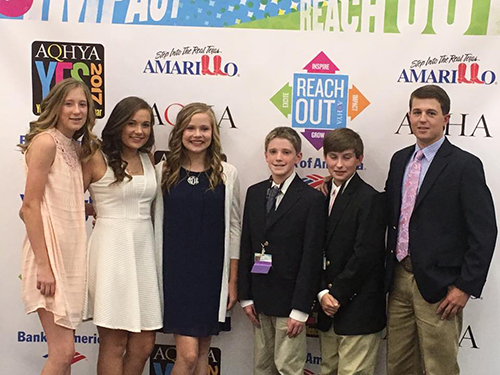 ---
Candids from 2017 YES conference
Arkansas Youth: Maggie, Ty, Lanie, Sidney, Spencer, and Steve

2017-2018 AQHYA National Officers and Directors

2016-2017 AQHYA National Officers volunteering at Snack Pak 4Kids (Ty is second from right)

Maggie, Ty, and Lanie at the dance

Steve, Spencer, and Sidney hiking before the YES Conference

Spencer, Cher (from Lousiana), and Steve volunteering at Snack Pak 4Kids

Sidney, Ty, Maggie and Lanie at the dance

Sidney, Macy (from Lousiana), and Lanie before the banquet

Spencer, Sidney and Steve at the banquet

Ty and Sidney at the banquet

Ty and Melanie at the banquet