March 26-27, 2022
Saline County Fairgrounds, Benton, AR
Judge: Mark Russell

August 20-21, 2022
Saline County Fairgrounds, Benton, AR
Judge: TBA
High-Point Series awards

for those who show at both shows!
---
No Bling Spring Fling Information
Host Hotel
Hampton Inn
307 Office Park Dr, Bryant, AR
(501) 847-3200
Request the Arkansas Quarter Horse show Rate
$96/night
Forms
Clinics
Clinicians: AQHA Professional Horseman Mark Dunham and AQHA Professional Horsewoman Kyle Simmons
Each clinic will be limited to 20 participants. Participants will be divided into two groups to work obstacles/maneuvers with each professional, ask questions, and receive instant feedback. The price is $75 for one clinic or $125 for both. The Showmanship clinic will start on Saturday, March 26 at 10 AM.

Vet Clinic: Dr. Mike Pallone of Pallone Vetenary Hospital
Dr. Pallone will go over how to keep your performance horse healthy and sound during the show season.
In the spirit of spreading knowledge, auditing will be free and open to the public! Our hope is to keep these educational clinics free and open to the public, so if you wish to donate to help cover clinic expenses and keep these free, you are welcome to donate to the cause on the day of the clinic and show.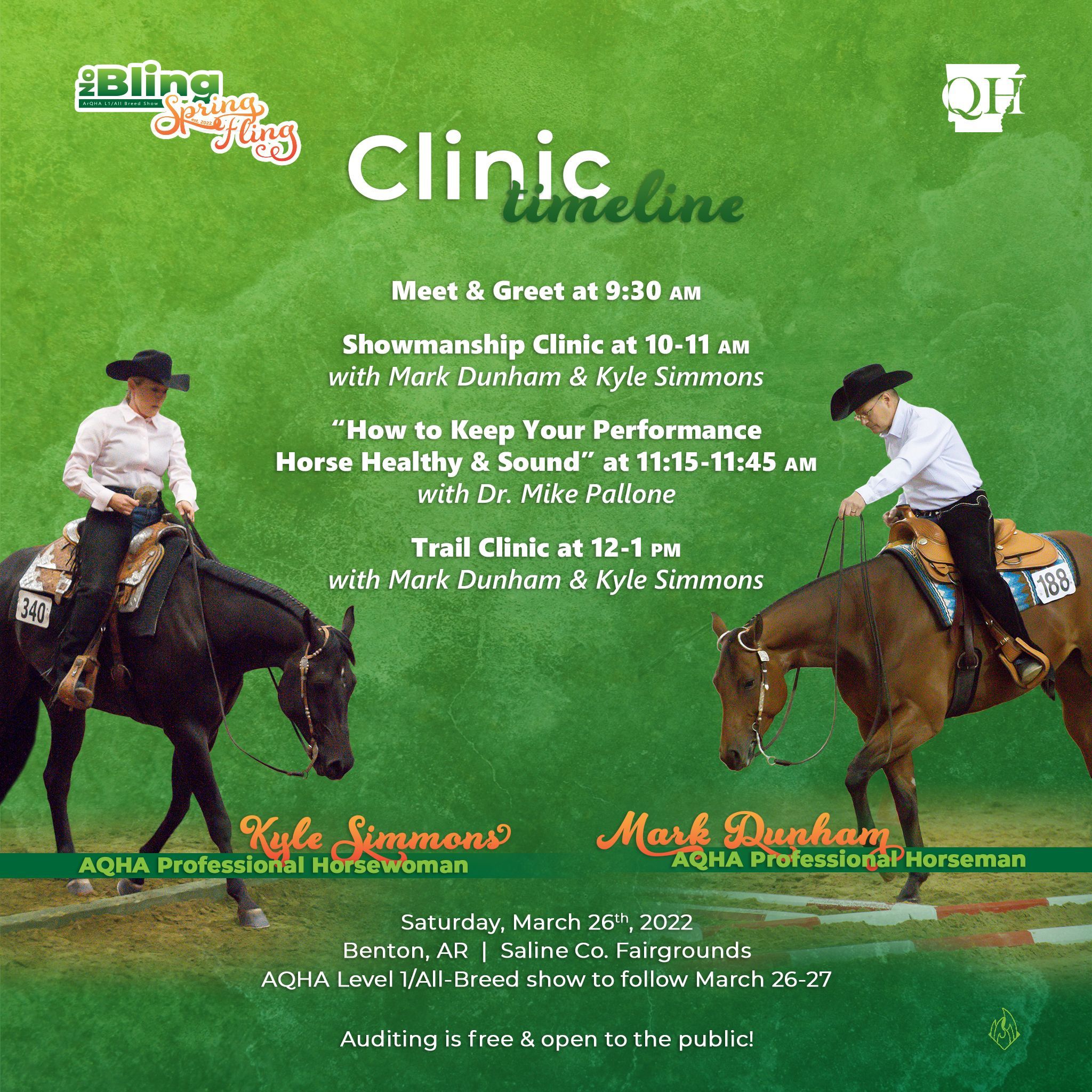 ---
Show divisions and classes offered
All-Breed: Walk Trot-18 & Under | Walk-Trot 19 & Over | 18 & Under | 19 & Over
AQHA:

Level 1 Walk-Trot Youth | Level 1 Walk-Trot Amateur | Level 1 Youth | Level 1 Amateur | Rookie Youth | Rookie Amateur
Classes: Ranch Trail, Ranch Rail, Ranch Sign Class, Ranch Riding, Reining, Ranch Conformation, Halter, Showmanship, Hunter Under Saddle, Hunt Seat Equitation, Western Pleasure, Horsemanship, Trail
Enter as many classes as you want for a flat class entry fee of $50/horse!
Division Rules
All-Breed divisions are open to non-AQHA registered horses, ponies, minis, and mules. Exhibitor/horse combinations do not have to follow AQHA ownership rules. Divisions are separated by the exhibitor's age as of January 1st of the current show year.

Walk-Trot 18 & Under and Walk-Trot 19 & Over

Are walk-trot-only divisions that are typically for beginner exhibitors who are not yet ready for lope classes.

18 & Under

and 19 & Over

Are walk-trot-lope divisions for exhibitors of all levels.

AQHA Rookie and Level 1 divisions are open to current AQHA members riding AQHA registered mares and/or geldings. Exhibitor/horse combinations do not have to follow AQHA ownership rules.

AQHA Level 1 Walk-Trot Youth & AQHA Level 1 Walk-Trot Amateur

The Level 1 divisions are walk-trot divisions for beginner riders who have less than a certain number of AQHA points in each class and may not be ready for walk-trot-lope classes. Each class has a different number of points for eligibility. Exhibitors who show in an AQHA walk-trot class may not enter the corresponding walk-trot-lope class at the same show.
See complete AQHA Walk-Trot rules in section SHW755 on pages 284-285 in the 2022 AQHA Rulebook
See complete AQHA Level 1 Eligibility rules in section SHW251 on pages 101-102 in the 2022 AQHA Rulebook

AQHA Rookie Youth & AQHA Rookie Amateur

The Rookie divisions are walk-trot-lope introductory divisions for riders who have just started riding. Exhibitors must have less than ten lifetime AQHA points in the class and have not won $5,000 or more in the class in any equine organization or association they are entering. Horses exhibited in Rookie classes must have less than 50 lifetime AQHA points in the class and may not have won $1,000 or more in any equine organization or association the class they are entering. 
See complete AQHA Rookie Level and Eligibility rules in section SHW252 on pages 102-103 in the 2022 AQHA Rulebook

AQHA Level 1 Youth & AQHA Level 1 Amateur

The Level 1 divisions (previously called Novice) are walk-trot-lope divisions for beginner riders who have less than a certain number of AQHA points in each class. Each class has a different number of points for eligibility.
See complete AQHA Level 1 Eligibility rules in section SHW251 on pages 101-102 in the 2022 AQHA Rulebook

You can check your or your horse's AQHA Leveling eligibility here
Check out the online

2022 AQHA Rulebook here